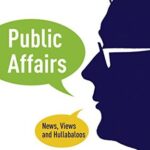 News and Views – do they matter? Public affairs is fundamentally about communications. Communications move and change. They are reshaped, redirected, and repositioned as politics and events change. Each communication is vital observation that captures the essence of the politics and events of that time and provides a route to understanding them.
Public Affairs : News, Views and Hullabaloos is a unique and compelling collection of author Stuart Thomson's personal picks from his popular series of blog posts. Each provides a fascinating insight into the political situation of the time and in many cases proving vital for our current understanding of the contemporary public affairs and campaigning landscape. Through these pithy, concise and entertaining pieces, Stuart offers valuable tips, hints and thoughts on public affairs and political communications. He covers the full length and breadth of key issues, and provides a compelling argument for the importance of crisis communications, media relations, social media project development, and local engagement in the political environment.
To download a free copy of the book, click here.