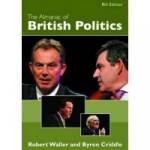 Review of "The Almanac of British Politics" – Book review of Robert Waller and Byron Criddle's "The Almanac of British Politics"
An Essential PA Almanac
Need to know more about an MP? Check out The Almanac of British Politics, says Dr Stuart Thomson
There are few people who know as much about the backgrounds and lives of MPs as Byron Criddle and Robert Waller. Criddle is a walking encyclopaedia who has made it his business to study and learn all about our MPs – past and present. Having attended every Labour Party conference since the late 1960s, he has known about all the ups and downs of the personalities and parties that inhabit the political arena.
I studied under Criddle when I was at Aberdeen University, and his commentaries about the MPs wandering around the hotel lobbies at party conference made the evenings much more enjoyable.
Invaluable resource
The Almanac of British Politics could be dry and tedious, providing as it does details about every constituency and MP throughout the country.  I am happy tosay it is far from it. The book brings the people who inhabit Parliament to life (admittedly some require more help than others), and the details about each constituency provide an invaluable resource for PA practitioners.
While it is useful to know about the details of an MP's career, promotions and club memberships, it is their personality that is key to how they behave, react and vote. For those in PA, we need access to this type of detail and this book provides it in spades. It is also very well written, making for an entertaining read. The authors have an accomplished ability to deliver occasionally surreal but strangely apt descriptions.
For Gordon Brown, the 'blindness in his left eye concerned many on the left-wing of his party'; David Cameron is 'a direct descendant of one of William IVs illegitimate children by his mistress Dora Jordan"; Sir Menzies Campbell has 'a stiff, ponderous, Lawyerly manner, and […] fastidiously splendid appearance'.
Scathing profiles
The profiles can be scathing. On John Prescott 'Unlike Ernest Bevin, with whom he liked to compare himself as the working-class union rock for the bourgeois Attlee, he lacked Bevin's confidence, ability, achievement and significance'.
And did you know that Prescott used to share a London flat with Dennis Skinner MP? Poor old Charles Clarke: "Oddly, for an ambitious politician, resultantly stubble-bearded and fat, his departure finally solved one of Blair's problems by taking the last beard from the cabinet.'
While we learn that Ann Winterton has 'sometimes taken to identifying herself as "Lady Winterton" in deference to her husband's knighthood'.
You really get the feeling that the authors have not just listed information that you have to wade through and sift; instead they have thought about the book's audience to provide a volume that is a pleasure to read, but also useful. The information really works for those in PA. The authors have answered the questions that you, and your clients, would want answers to.
Much-needed update
This is the eighth edition, with the seventh (published in 2002) now seriously out-of-date. The new version provides some useful summary points on the 2005 election, 'regional survey'pen-portraits of voting patterns, and facts and figures for the real political spotters out there (Crawley is the most marginal Labour seat and Bootle the safest; Christchurch has the highest proportion of pensioners; and Leeds North West has the highest percentage of students).
The constituency profiles, complete with social data included in the tables, help us to understand how they 'tick' and what motivates how they vote. This, of course, feeds directly into the behaviour of its elected representative (or should do!).
Perhaps of most use is the profile of the new constituencies and their potential political impact — which MPs are at risk and who may benefit from the revised boundaries? For those of us looking to clues about the outcome of the next general election, and who also need to focus on local politics, this book is a major help.
You can tell that the authors have put time, effort and dedication into the book and the benefits show. While there are other books available that cover similar territory, they cannot hold a light to The Almanac of British Politics — it really is the original and the best.
Public Affairs News, July 2007

Book review of Anne Perkins' "Red Queen: The Authorized Biography of Barbara Castle"
To many, Barbara Castle is the personification of the conviction politician – battling hard for the causes she held dear. To a younger generation, she was the hammer of the left who gave New Labour a bloody nose over its pensions policy and roused the party conference and numerous fringe meetings with her calls for a restoration of earnings-linked pensions.
But to others, she was the politician unceremoniously dumped from the Cabinet when Callaghan took over from Wilson as Prime Minister. A criticism frequently levelled at Castle was that she was too close to Wilson for too long.
In the 1950s, Castle had proved her credentials in the party beyond doubt by being an effective and convinced member of the Bevanite brigade. In Government with Wilson in the 1960s, however, she was part of an administration which disappointed many in the party. This eventually led to the 'In Place of Strife' debacle. Her proposals to curb the power of the trade unions was beaten by a combination of Cabinet and union opposition which left Castle and Wilson hanging in the air and undoubtedly contributed to the electoral defeat of 1970. Depending on how revisionist one wishes to be, her proposals were either a missed opportunity which would have prevented the Thatcherite juggernaut and reformed the unions in line with socialist priorities or were an ill-judged and ill-timed set of reforms which no-one liked. It took much personal and political courage by Castle to rehabilitate herself in the 1974 government and she made several notable and lasting contributions to society in this period.
This book coveys some of the conviction of Castle the person and the politician. The political blood which undoubtedly pumped through her veins appears to have provided much of her vigour, staying power and sometimes sheer bloody-mindedness. Perkins' book is very strong in examining the major events of Castle's life, especially the political ones, and the casual observer may come to the book for this reason. Those though wanting to know more about Castle the person may be left wanting a little more about her early and later life. Castle was so much more than a Member of Parliament and this could come across more strongly in places.
The release of a book likes this gives everyone a chance to recall their favourite story about Barbara Castle. Mine is seeing her arrive late at a Tribune rally and join the platform mid-way through a speech by, the then Shadow Chancellor, Gordon Brown. The applause grew louder and the cheers rose up, but only when a puzzled Brown turned round to see the approaching Castle, did he realise that he had been truly upstaged. Castle, it appears, had a habit of doing that! Castle knew how to work an audience, she could be cutting and could scythe anyone down with a withering comment. Not a skill that many politicians today have.
Labour History – The Journal of the Labour History Group, Issue 2, Spring 2004