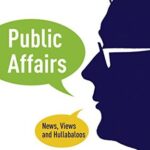 News and Views – do they matter? Public affairs is fundamentally about communications. Communications move and change. They are reshaped, redirected, and repositioned as politics and events change. Each communication is vital observation that captures the essence of the politics and events of that time and provides a route to understanding them.
Public Affairs : News, Views and Hullabaloos is a unique and compelling collection of author Stuart Thomson's personal picks from his popular series of blog posts. Each provides a fascinating insight into the political situation of the time and in many cases proving vital for our current understanding of the contemporary public affairs and campaigning landscape. Through these pithy, concise and entertaining pieces, Stuart offers valuable tips, hints and thoughts on public affairs and political communications. He covers the full length and breadth of key issues, and provides a compelling argument for the importance of crisis communications, media relations, social media project development, and local engagement in the political environment.
To download a free copy of the book, click here.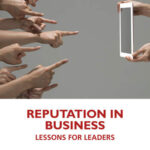 I am pleased to announce that my new book will be released in late 2022 by Routledge.
The book is a compelling mix of reputation management, crisis leadership and the role of politics in business, this book provides unique practical steps that leaders can take to protect their reputations and those of the organisations they head in an ever-more open social media-led world.
Although leaders increasingly recognise the vital intangible asset that reputation represents, too many do not really understand what reputation is and the steps that should be taken to build it and their corporate value. Given the range of factors depending on the organisation, each aspect of its complex reputational story needs to be unpicked if a reputation is to be built, maintained and protected. This step by-step-guide offers advice on how to develop the strategies needed to do this, provides clear lessons throughout from a range of experts – and distinctively, looks beyond the corporate sector to charities, governments, NGOs and the public sector.
Boards, trustees, non-executive directors, senior management, and leaders of all types of organisations need to consider the steps that should be taken to build, maintain and defend their reputation, and that means knowing what their reputation is and the audiences that matter most to them. This book is the roadmap.
More details will be released nearer publication but in the meantime please email me, [email protected]